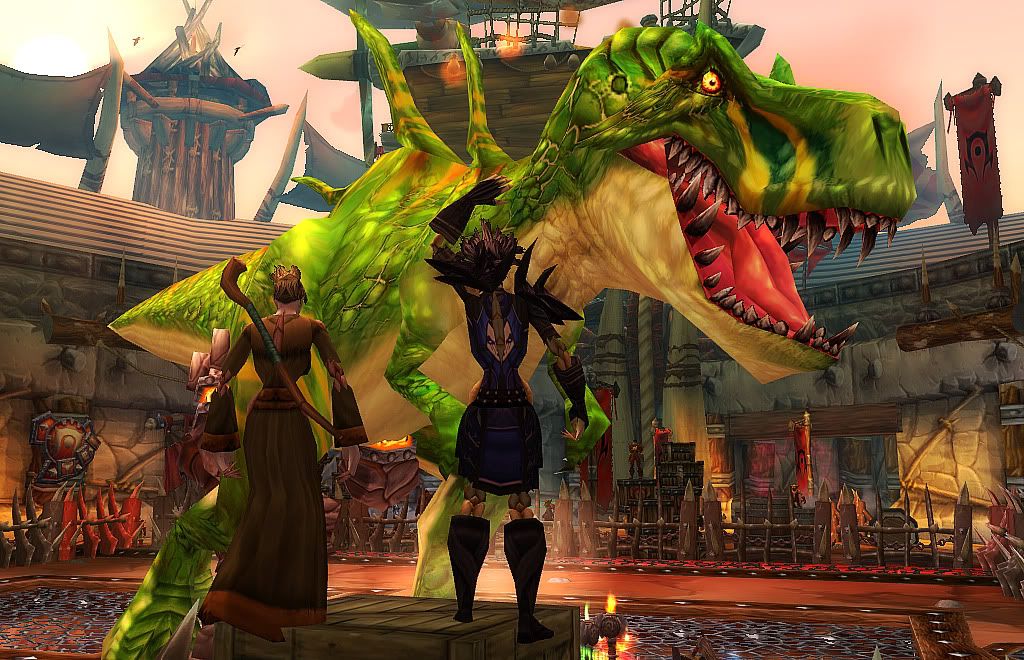 I'm actually starting to feel ill again by this point, but today was a fine day of writing and sunshine and feeling unusually bouncy. Then things got even better, as per the header screenshot.
Maybe another screenshot will provide sufficient clarification.

My screenshotting skills apparently nosedive when I'm excitable so I didn't capture as much of Navi's visit as I'd have liked.
However! She is just as chatty and interesting in-game as in-blog. Sadly it turns out you can't pelt someone in the arena with tomatoes unless you're level ninety, so no achievement there, but Navi can confirm that my second attempt at the Dark Summoner lasted far longer than two seconds (which is more than I can say for the first - oops).
On the whole it was great fun to be included in something I've read so much about and, amongst the more light-hearted lines of discussion, Navi asked a pretty important question: what do I really want from this character (Nyxrinne)?
I want to raid again, as tank or DPS; I want to be more competitive in my play; I want to be in a busier guild; and, honestly, I think I want to be on a busier server too. Saurfang isn't dead, not compared to Scarshield, but while we were in the Brawler's Guild there was actually a considerable pause in which no-one was queued to fight at all.
So, thank you Navi both for visiting and for helping me get my thoughts going regarding this! If anyone EU-side has a server to recommend, give us a poke. I favour PvP and RP realms, but a straight PvE server with a sufficiently vibrant and sizeable community could easily draw me over. Having had both my servers sort of crumble away beneath me, I'd really like to settle somewhere solid!