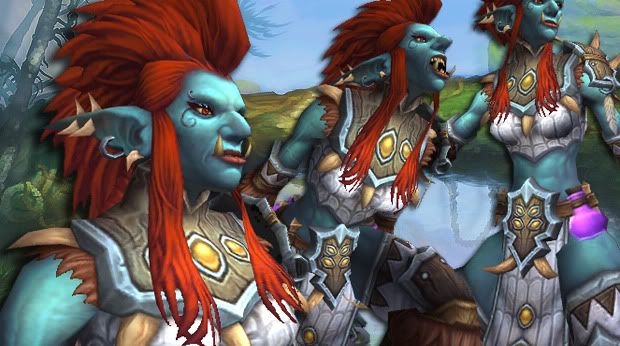 After a minor spat with life I'm working on a proper blog post, but I saw the new model for the Jungle Troll Councillor (which you can view in 3D here on Wowhead if you haven't already) and had to say something.
This is the first time since Therazane that I've looked at a new female model and loved it unabashedly. Look, look!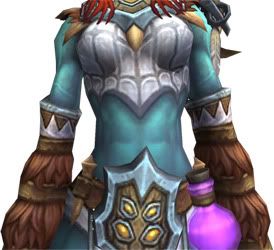 Abs!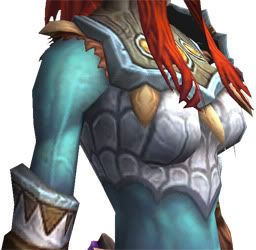 Veins!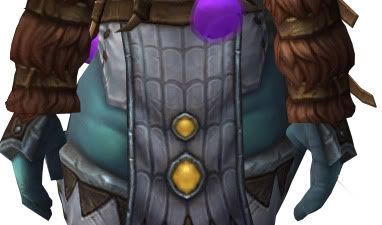 Cellulite!
Okay, fine, maybe it's not cellulite, but she certainly doesn't look like she has an apple for an arse, which is more than I can say for some models.


Well, there are a lot more of these than I anticipated.
This new troll may well be part of the Council of Elders fight, seeing as the model is referred to as a councillor. I'm glad to see a troll woman potentially in a position of power. The troll race is not known for equality between the genders, and we could really do with a pick-me-up following the disappointment of the Thunder King's consorts.

(I was writing a post on that, but it's a bit late now and Apple Cider Mage covers most of it here: The Problem with Twins.)
The model is fantastic either way. She's ripped. She actually looks like a member of a warrior race, unlike the stick-thin, featureless lady-trolls of old.
I'm hopeful that this is a taste of things to come: that the impending revamps of the old player races are going to be similarly considerate of the issues flagged up by the community over years of play.
Which brings me around to the things I most look forward to seeing fixed when these new player models come in.
1. Forsaken joints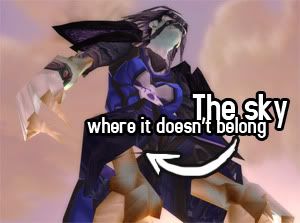 I'm part of the crowd that quite likes the bare knees and elbows (although I'd still like the option to turn both off for some characters, as I feel the skin tones, faces and the jerky way they run makes them distinct from humans already) but I dislike how poorly they've been implemented.
Tip the camera low and you can see straight through Nyxrinne's elbow, all the way up through her arm to her ear. It's no better around the knees, as the screenshot shows. Big boots clip straight through the bones as well, although I recognise this is an issue even for those with proper padding around their kneecaps.
2. Hair
Although I love all my classic characters dearly, they don't half have some terrible hair issues. I'm talking classic tree terrible.
Terrible.
It's not that I dislike the styles. I don't. It's just the bald spots and the jagged pixels that I'd like to see- well, never again. I'm outright excited over hair now, though. Look at what they can do!
3. Faces
Some characters have far too few face designs to pick from. The choices they do have aren't always all that distinct, either. Tauren are definitely the worst off in this respect, although gnomes aren't that far behind.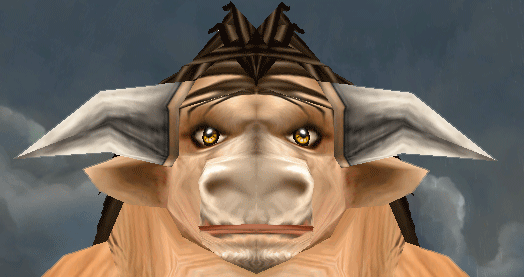 The trouble with fixing this is that, ideally, I'd like more range at the character creation screen, but how would that be implemented in a way that would affect existing characters?
Theoretically the model-updating patch might send affected races back to the character creation screen to explore the new options, but that presents two immediate issues: jealousy amongst those races who already have plenty of options but no chance to switch, and an undermining of the paid character alteration service. Will Blizzard put effort into an endeavour that might reduce their takings in the subsequent months?
Maybe I should settle for slightly shaggier looks for furry tauren. They pulled that off pretty well for the taunka and the yaungol, after all.
Anyone else feeling a little bit inspired by this glimpse of the future?