Just a quick post to flag up a relatively new feature, as a morning spent tanking through the LFD tool has revealed not everyone is aware of this handy thing.
Want to roll for offspec? Want to see who's rolling against you? Nosy like me and just want to know what everyone's doing? When loot drops, uncommon quality and upward, you'll see a message in chat that looks like this:

If you click [Loot] the following window will open up: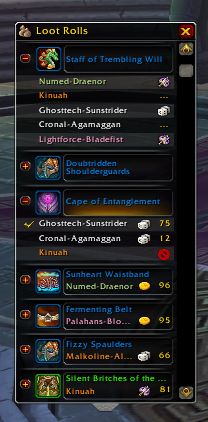 It keeps track of every roll, past and current, for your perusal. Much neater than a chatlog full of roll spam, innit?